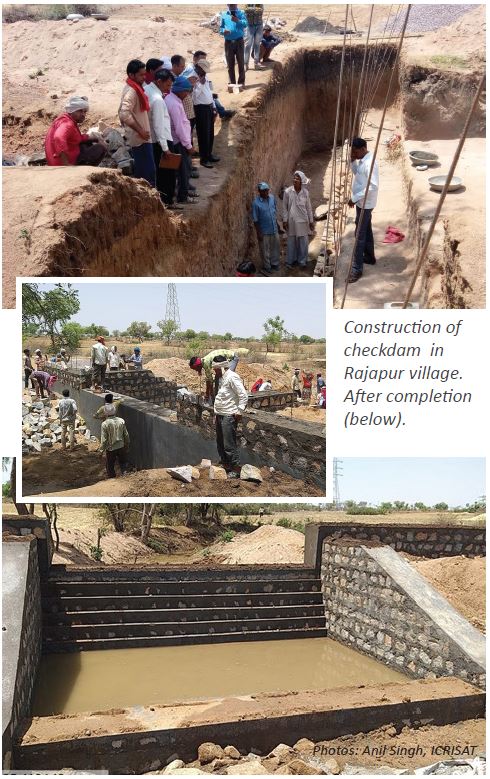 How important are masons in agriculture? If the success of ICRISAT's watershed efforts in Bundelkhand region is an indication, skilled masons are crucial in helping farmers double their incomes.
The 'Doubling farmers' income in Bundelkhand' project aims to develop 5,000 ha in each of the region's seven districts. Water harvesting works which were initiated earlier are now being scaled up, increasing the demand for skilled manpower. To meet the demand, skill enhancement training programs are being conducted for masons.
Two masons from each district have been chosen for work at a pilot site of the project in Jhansi, while being supervised by Mr Ram Prakash Kumar, the lead mason, and the ICAR- Central Agroforestry Research Institute (CAFRI) team led by Principal Scientist Dr Ramesh Singh.
This month, 15 masons were trained in excavation, reducing the width of the foundation, placing iron bars, constructing various components of rainwater harvesting system (RWHS), avoiding preferential flow in varied situations and material quality. After training, they will be deputed to their districts to construct water harvesting structures in consultation with the CAFRI and ICRISAT teams.
Rainwater harvesting through check dams, farm ponds, check walls and well recharge systems increase water availability and irrigated land, ensuring good crop growth. It is often seen that these structures, when built in the best of ways, continue to function efficiently long after their intended lifetimes.
Instances where such structures lasted less than 8 years, it was learnt that poor foundation, absence of cutoff and toe walls, short extension wall and use of sub-standed material were some reasons for failure.
As part of ICRISAT and ICAR-CAFRI – led projects in Bundelkhand region, low-cost robust designs for rainwater harvesting structures were developed and tested during 2012 -2016 in Parasai-Sindh watershed, Jhansi.
ICAR-CAFRI also worked in Garkundar-Dabar watershed of Tikamgarh district, Madhya Pradesh, where many water harvesting structures were constructed in 2006 and 2007; these structures did not require maintenance for 14 years after construction despite witnessing heavy floods. During the implementation of these watershed projects, only a few masons could learn and develop the skills necessary for constructing strong rainwater harvesting structures.
Dr Ramesh Singh of CAFRI and Dr Kaushal Garg of ICRISAT,contributed to this story.