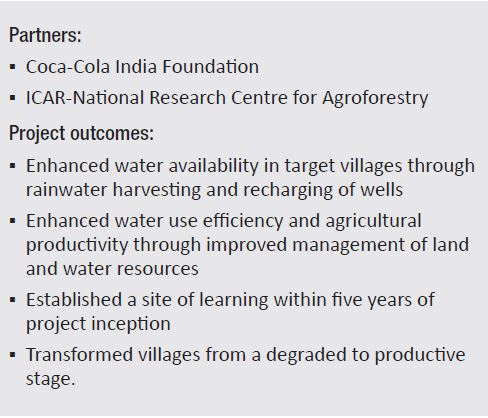 Parasai-Sindh watershed has added another feather to its cap. The National Institution for Transforming India (NITI Aayog) recognized the project as among the best water practices in India.
"Local community in the water scarce Parasai-Sindh region of Jhansi, Uttar Pradesh increased groundwater level by 2-5 meters and made 100 acres of land cultivable by constructing check dams, farm ponds and renovating existing structures in 8 locations," a recent Facebook post from NITI Aayog reads.
Parasai-Sindh watershed covers the villages Parasai, Chatpur, and Bachauni in Babina block of Jhansi. A CSR initiative, it was jointly developed by ICRISAT and ICARCAFRI with community involvement between 2012 and 2016, and with support from Coca-Cola India Foundation as a CSR. Nearly 125,000 m3 storage capacity was created by renovating traditional water tanks and constructing check dams on village streams. More than 250,000 m3 runoff was annually harvested, raising groundwater by 2-5 meters.