Krushna Arjun Thorat, a farmer in the Indian state of Maharashtra, poor yield from his farm was unexplainable despite multiple efforts to increase it. That his farm's shallow soil lacked fertility only became apparent after he began working with a JSW-ICRISAT project.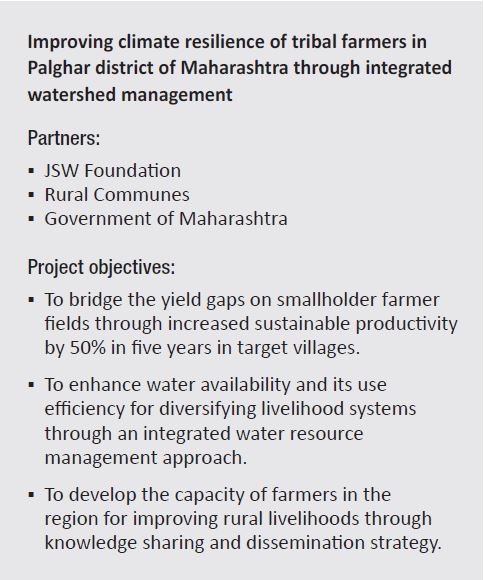 During rainy season in 2015, the non-governmental organization Rural Communes introduced the project 'Improving climate resilience of tribal farmers in Palghar district of Maharashtra through integrated watershed management' in Chambharshet, where Mr Thorat lives. As part of project activities, demonstrations of finger millet, groundnut and pigeonpea cultivation were conducted. The importance of micronutrients and ways to apply them to the soil was also conveyed through workshops. Impressed, Mr Thorat went to work on his field. He agreed to have his farm turned into a crop demonstration plot. Rural Communes staff educated Mr Thorat about pearl millet variety ICTP 8203 (Dhanashakti), known to have a good taste, high yield and is high on nutrients, mainly iron.
Mr Thorat prepared land by applying gypsum, zinc sulfate and boron with guidance from field staff. He took up line sowing, an operation he had not performed in the past. He realized that line sowing helped save seed and reduce cost. He carefully performed weeding and inter-culture operations while following advice of the field staff for urea application.During a Farmers' Day event conducted in his village, scores of farmers visited Mr Thorat's field. They asked him about the crop and for the seed. From just 0.05 ha land, he was able to produce 45 kg of pearl millet. Mr Thorat has saved some seed for sale during rainy season. In his house, millet is used for preparing Bhakri, which is a hit in the farmer's neighborhood.