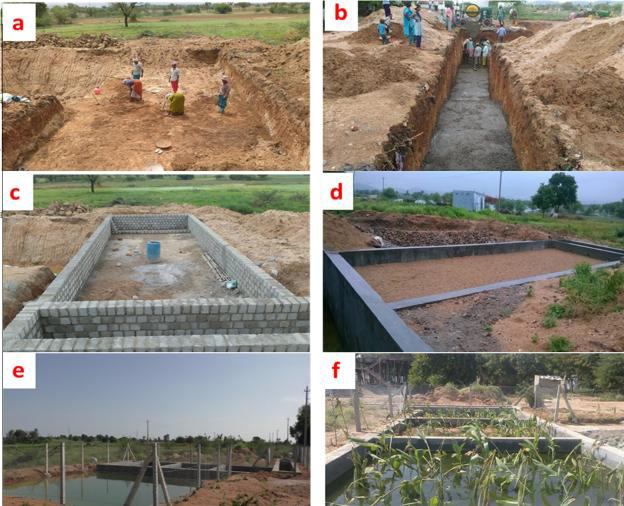 The Rural Electrification Corporation Limited (RECL) in Hyderabad, has supported the ICRISAT (International Crops Research Institute for the Semi-Arid Tropics)-led consortium to develop "Model Sites of Learning" in Wanaparthy district of Telangana State with the aim of sustainably increasing agricultural productivity and improving livelihoods of the rural poor in vulnerable rainfed areas.
The intervention involving decentralized wastewater treatment and abatement of raw wastewater irrigation was done as part of watershed development activity in the erstwhile Mahabubnagar district (now Mahabubnagar and Wanaparthy districts) of Telangana, India, utilizing fund made available by RECL under corporate social responsibility (CSR).
Technology for constructed wetland:
As common gardening skills are sufficient to take care of such a wastewater treatment system, CWs presents a feasible solution to the wastewater menace for small rural communities with limited resources and power supply. CWs may also provide additional income source for the villagers during the construction, operation as well as maintenance activities.
A typical decentralized wastewater treatment (DWAT) unit consists of four components an inlet tank which acts as flow equalization tank as well; a horizontal flow subs-surface constructed wetland where specific plants such as Cana indica; Typha latifolia are grown on a sand gravel media to facilitate phytoremediation of the wastewater. Once the plants get established, bulk of the pollutant removal takes place in the root-zone. The third component is an outlet tank downstream of the constructed wetland. The inlet tank and outlet tank help to maintain the subsurface flow regimen by suitably placing the inlet and outlet pipes while utilizing the gravity flow. The final component is a storage tank for the treated water. For sites where scope of reuse is restricted or the flow wastewater is not expected to irrigate one acre of land this component may be omitted.
The cost of the DWAT system varies from site to site based on the geometry which in turn depends on the wastewater flow. A minimum of three day hydraulic retention time is required to treat the wastewater effectively in DWAT system.
Phases of DWAT Implementation: This consists of site inspection; consultation at local level, gram panchayat level and watershed committee level; excavation; brick-masonry work; plastering; gravel-sand media preparation; fencing and plantation of Cana Indica; before DWAT becomes operational.
Advantages:
Devoid of chemicals or electricity, maintenance feasible by rural communities;
Facilitates increase water use efficiency of resource poor rural communities;
Serves as an income source during construction, operation and maintenance activities;
Enable recycles nitrogen, phosphates and other nutrients;
Biomass generated in CW can be used for composting, biogas or 2G-ethanol.
Limitations:
This intervention is feasible in villages with cemented drainage network
It requires support from gram panchayat particularly in maintenance of drains
Cost: The cost of construction for this unit was Rs.5,30,082. This includes expenses towards village level awareness workshops; social engineering through field visits and interaction with various stakeholders, self-help group formation; design, site assessment and site selection; civil construction and engineering cost; maintenance equipments (cutters, hedge smears etc.) and safety gears (viz. gloves, rubber shoes for workers involved in plant biomass harvesting) etc. The all-inclusive cost of a DWAT unit treating wastewater from 500 households would be approximately Rs.30,00,000 though, depending upon the site condition (depth of soil at the site, presence of bed rock if any, blasting requirement etc.) prevailing circle rate and type of construction (viz brick-masonry or reinforced concrete); a variation of 10% is common.
Performance of the DWAT in terms of wastewater treatment: Performance of DWAT systems depend on the inlet wastewater characteristics. Performance in Mentapally showed substantial removal of chemical oxygen demand; total suspended solids; inorganic Nitrogen; Phosphate, Sulphate and total Coliform between August 2016 and December 2018.
Biomass generation: About 750 kg of biomass was generated per month from the unit. At present the plant biomass gets harvested every 45 days and is used for compost preparation.
The decentralized wastewater treatment unit implemented at Mentapally is an example of how scientific interventions at grassroot level using simple nature based technologies can significantly improve the livelihood of rural populations.
Read more in this article, originally published in Sujal Swachh Sangraha.